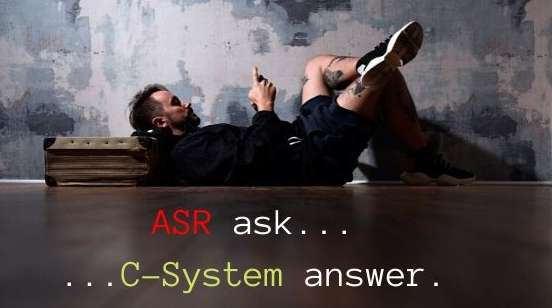 🇬🇧  English version: 
1. Why is music so important to you? 
It is my passion, but not only at the electronic level, but at all levels. I cannot spend a day without listening to some music nor would I be able to live without it. 
2. What has been your most touching moment you have experienced as a DJ? 
I have lived a lot, it is almost impossible for me to say just one, but I think I go with the 15-9-2012 opening of Industrial Copera (former hall). 
3. Your favorite track of all time and why? 
Drax LTd - Amphetamine. With this track it all started, I listened to Carl Cox in 1994 at the MAYDAY festival when I was 12 years old; broadcast live on the VIVA channel. My brother recorded all the festivals and although I was small, I already put interest. That track is my favorite. 
4. What is your perfect idea of happiness? 
Always have an illusion to achieve new things and new goals. He, who always has something to fight for, is happy forever. 
5. What do you think about the Techno scene nowadays? 
This is a good question. In my opinion, there are a lot of people in the scene who have nothing to do with it. They just love to be in the DJ booth and follow the trend. But this situation will go and the people who really love and have passion for the music and the scene will stay. It is just a matter of years. By the other hand, the scene is growing really brutal with artists with an extremely high musical level. 
🇪🇸 Español: 
1.- Porqué la música es tan importante para ti. 
Es mi pasión, pero no solamente a nivel electrónica, sino a todos los niveles. No puedo pasar un día sin escuchar algo de música ni tampoco sería capaz de vivir sin ella. 
2.- Cuál ha sido tu momento - experiencia más importante como Dj? 
He vivido muchísimos, casi me es imposible decir uno solo, pero creo que me quedo con el 15-9-2012, apertura de Industrial Copera (antigua sala). 
3.- Cuál es tu Track favorito de todos los tiempos y porqué? 
Drax LTd - Amphetamine. Con este track empezó todo, se lo escuché a Carl Cox en 1994 en el festival MAYDAY cuando yo tenía 12 años, retransmitido en directo en el canal VIVA. Mi hermano grababa todos los festivales y aunque yo era pequeño, ya le ponía interés. Ese track es mi favorito. 
4.- Cuál es tu perfecta idea de "Felicidad"? 
Tener siempre una ilusión por conseguir cosas nuevas y objetivos nuevos. Aquel que siempre tiene algo por lo que luchar, es feliz para siempre. 
5.- Qué piensas de la escena Techno de hoy en día? 
Buena pregunta... En mi opinión empieza a sobrar gente que no ama esto. Solo aman lucirse a la cabina y seguir la moda. Pero ese repunte pasará y se volver a quedar solo la gente apasionada. Cuestión de años. Por otro lado también hay un crecimiento de la escena brutal, con artistas de calidad y con un nivel musical altísimo. 
🇩🇪  Deutsch: 
1. Warum ist dir Musik so wichtig? 
Musik ist meine Leidenschaft, nicht nur die elektronische Musik, sondern jede Art von Musik. Ich kann nicht einen Tag ohne Musik verbringen und ich würde auch nicht ohne Musik leben können. 
2. Was war dein bewegendster Moment, den du als DJ erlebt hast? 
Ich habe viele Momente erlebt, es ist für mich fast unmöglich, nur einen aufzuzählen. Aber ich denke, ich entscheide mich für die Eröffnung der Industrial Copera (ehemalige Halle) am 15.9.2012. 
3. Dein Lieblingstrack aller Zeiten und warum? 
Drax LTd - Amphetamin. Mit diesem Track fing alles an, ich hörte Carl Cox 1994 auf dem MAYDAY Festival, live auf VIVA. Da war ich 12 Jahre alt. Mein Bruder hat alle Festivals aufgenommen und obwohl ich noch sehr jung war, war ich sofort an der Musik interessiert. Dieser Track ist mein Favorit. 
4. Was ist deine perfekte Vorstellung von Glück? 
Immer einen Traum haben, um neue Dinge und Ziele zu erreichen. Wer immer etwas hat, für das es sich zu kämpfen lohnt, ist für immer glücklich. 
5. Was hältst du von der heutigen Techno-Szene? 
Das ist eine gute Frage, meiner Meinung nach gibt es viele Leute in der Szene, die nichts damit zu tun haben. Sie lieben es einfach, im DJ Booth zu stehen und folgen dem Trend. Aber diese Situation wird sich ändern und die Menschen, die die Musik wirklich lieben und eine Leidenschaft für die Musik und die Szene haben, werden bleiben. Es ist nur eine Frage von Jahren. Auf der anderen Seite wächst gerade eine ziemlich große Szene mit Künstlern mit einem extrem hohen musikalischen Niveau.