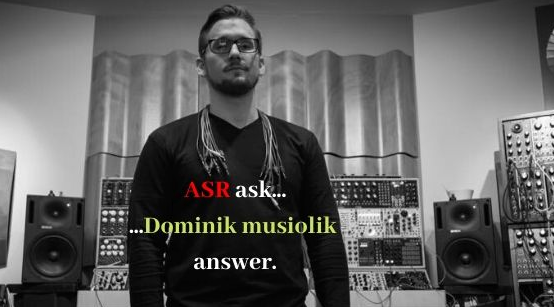 🇬🇧 English version: 
1. Why is music so important to you? 
It is the best possibility to express myself and capture a current mood or feeling in tracks or recordings. Music for me is an important amplifier of moments or memories. If I think back on specific tracks, I remember thousands of good or bad memories inside different tracks of various genres. For me, nothing else can do this better than music. Everyone has specific tracks which are playing in the background of their heads in different kind of situations, everyone. 
2. What has been your most touching moment you have experienced as a DJ? 
This was playing my first live set in a club. My own tracks live arranged in a simplified track arrangement with 100 % my own produced samples and sounds. The club was packed and I played the peak time slot, goosebumps after every break, the crowd was nuts. Awesome… 
3. Your favorite track of all time and why? 
This is hard. There is a long list of outstanding tracks fighting for the first place. I took my time to think about this. It is not just the track I will mention now, it is also the feelings and memories I kept with it: Wassermann – Wir (Sven Väth Remix) but played at +5 bpm on the Technics 1210. In my head the track is playing now and I think about Loveparade in Berlin in 2000. It is night at the Siegessäule, millions of ravers are there and Väth is playing. 
4. What is your perfect idea of happiness? 
Feeling healthy, solved all important tasks the day before, riding my bicycle along the river Main in the early morning hours one handed with a coffee, hearing some good music and feel the moment, save the moment, enjoying life. 
5. What do you think about the Techno scene nowadays? 
I have visited or played a lot of good techno parties in my life. The most intense impressions of the people and the moment I got from parties before smartphones and distracted people. The most people reading this who know the scene nowadays understand me. We are so over saturated with media traffic, likes and algorithms. Sometimes I personally enjoy silence the most. It was different then but nowadays we still have crazy Techno parties intense in different ways because it is a different time, different technology and different and special people. I enjoy making music and playing DJ gigs at the same time. I still get goosebumps sometimes, so I know everything is alright. 
🇪🇸 Español: 
1. ¿Por qué la música es tan importante para ti? 
Es la mejor posibilidad de expresarme y capturar un estado de ánimo o sentimiento actual en pistas o grabaciones. La música para mí es un amplificador importante de momentos o recuerdos. Si pienso en pistas específicas, recuerdo miles de buenos o malos recuerdos dentro de diferentes pistas de varios géneros. Para mí, nada más puede hacer esto mejor que la música. Todos tienen pistas específicas que se reproducen en el fondo de sus cabezas en diferentes tipos de situaciones, todos. 
2. ¿Cuál ha sido tu momento más conmovedor que has experimentado como DJ? 
Esto fue tocar mi primer set en vivo en un club. Mis propias pistas en vivo organizadas en una disposición de pistas simplificada con 100% de mis propias muestras y sonidos producidos. El club estaba abarrotado y jugué en la franja horaria máxima, con la piel de gallina después de cada descanso, la multitud estaba loca. Increíble… 
3. ¿Tu canción favorita de todos los tiempos y por qué? 
Esto es duro. Hay una larga lista de pistas destacadas que luchan por el primer lugar. Me tomé mi tiempo para pensar en esto. No solo mencionaré la canción, sino también los sentimientos y recuerdos que guardé con ella: Wassermann  (Sven Väth Remix), pero tocó a +5 bpm en Technics 1210. En mi cabeza, la canción se está reproduciendo ahora. y pienso en Loveparade en Berlín en 2000. Es de noche en la Siegessäule, millones de ravers están allí y Väth está tocando. 
4. ¿Cuál es tu idea perfecta de la felicidad? 
Sentirse saludable, resolvió todas las tareas importantes el día anterior, andar en bicicleta a lo largo del río Meno en la madrugada con una mano con un café, escuchar buena música y sentir el momento, salvar el momento, disfrutar la vida. 
5. ¿Qué opinas sobre la escena Techno hoy en día? 
He visitado o jugado muchas buenas fiestas techno en mi vida. Las impresiones más intensas de la gente y el momento que recibí de las fiestas antes de los teléfonos inteligentes y las personas distraídas. La mayoría de las personas que leen esto que conocen la escena hoy en día me entienden. Estamos tan saturados de tráfico de medios, me gusta y algoritmos. A veces personalmente disfruto más el silencio. Era diferente entonces, pero hoy en día todavía tenemos fiestas locas de Techno intensas de diferentes maneras porque es un momento diferente, tecnología diferente y personas diferentes y especiales. Disfruto haciendo música y tocando conciertos de DJ al mismo tiempo. Todavía me pone la piel de gallina a veces, así que sé que todo está bien. 
 🇩🇪 Deutsch: 
1. Warum ist dir Musik so wichtig? 
Es ist die beste Möglichkeit, sich auszudrücken und eine Stimmung oder ein Gefühl in Tracks oder Aufnahmen festzuhalten. Musik ist für mich ein wichtiger Verstärker von Momenten oder Erinnerungen. Wenn ich an bestimmte Tracks zurückdenke, erinnere ich mich an Tausende von guten oder schlechten Erinnerungen in verschiedenen Tracks verschiedener Genres. Für mich kann das nichts besser als Musik. Jeder hat bestimmte Tracks im Hinterkopf in den verschiedensten Situationen, jeder. 
2. Was war dein bewegendster Moment, den du als DJ erlebt hast? 
Das war mein erstes Live-Set in einem Club. Meine eigenen Tracks live arrangiert in einem vereinfachten Track-Arrangement mit 100 % selbst produzierten Samples und Sounds. Der Club war voll und ich spielte zur Peak Time, Gänsehaut nach jedem Break, die Menge war der Wahnsinn. Fantastisch..... 
3. Dein Lieblingstrack aller Zeiten und warum? 
Das ist hart. Es gibt eine lange Liste von Tracks, die um den ersten Platz kämpfen. Ich habe mir die Zeit genommen und darüber nachgedacht. Es ist nicht nur der Track, den ich jetzt erwähnen werde, es sind auch die Gefühle und Erinnerungen, die ich dabei behalten habe: Wassermann - Wir (Sven Väth Remix) aber bei +5 bpm auf der Technics 1210 gespielt. In meinem Kopf läuft der Track jetzt und ich denke an die Loveparade in Berlin im Jahr 2000. Es ist Nacht an der Siegessäule, Millionen von Raver sind da und Väth spielt. 
4. Was ist deine perfekte Vorstellung von Glück? 
Sich gesund fühlen und am Vortag alle wichtigen Aufgaben erledigt haben. Frühmorgens mit dem Fahrrad am Main entlangfahren, einen Kaffee trinken, gute Musik hören und den Moment spüren, sich immer an diesem Moment erinnern, das Leben genießen. 
5. Was hältst du von der heutigen Techno-Szene? 
Ich habe in meinem Leben viele gute Techno-Partys besucht oder auf vielen gespielt. Das waren die intensivsten Erinnerungen an Menschen und Momenten habe ich an Partys vor Zeiten des Smartphones und abgelenkten Menschen. Die meisten Leute, die das lesen und die die Szene heutzutage kennen, verstehen mich. Wir sind so übersättigt von Medien, Likes und Algorithmen. Manchmal genieße ich persönlich die Stille am meisten. Es war damals anders, aber heute haben wir immer noch verrückte Techno-Partys, die auf unterschiedliche Weise intensiv sind. Es ist eine andere Zeit, andere Technologien und andere besondere Menschen. Ich produziere genauso gerne Musik wie ich auf Gigs spiele. Ich bekomme immer noch manchmal Gänsehaut, also weiß ich, dass alles in Ordnung ist.