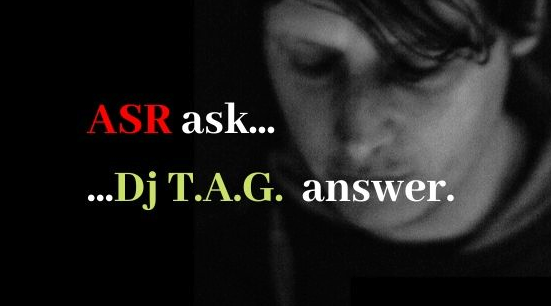 🇬🇧 English version 
1. Why is music so important to you? 
For me, music is a piece of freedom, something that accompanies me constantly and is omnipresent. My everyday life is determined by work and family, just real life. Not that I am dissatisfied or not happy with my life. No, music is a kind of balance for me; you can just switch off, be creative and relax. Let's not fool ourselves; life does not only consist of partying but also of a merciless performance society that sometimes demands everything from you. So why not escape in a few moments. 
2. What has been your most touching moment you have experienced as a DJ? 
Moving is perhaps not the right word, rather moments that you have experienced more intensely, I think this is a better description. There are certainly many moments when I look back, e.g. the admission in the headquarters team of the Tresor in 2007 or the countless gigs with my idols of electronic music in countless clubs in Germany and Europe. 
3. Your favorite track of all time and why? 
Only one track??? Well, then I would spontaneously say "Enjoy the Silence" by Depeche Mode. 
4. What is your perfect idea of happiness? 
For me, happiness is definitely spending every day with my family, staying healthy and watching my children grow up. I do not define happiness with material things, recognition or success. All of this is transient and does not really make you happy 
5. What do you think about the Techno scene nowadays? 
I could say now: "Everything used to be better." But it is not like that and otherwise I would have disappeared already. Techno for me is much more than just music. For me it is a kind of attitude to life and not a temporary fashion or a job as many others might see it. The negative aspect is that techno has developed into a big market from which you can capitalize. Whether you think of big agencies or small artists, everyone wants something from the cake. 
As with any market, you have to follow the rules of the game in order to be able to play. I am financially independent and do not have a strong need for recognition, so it does not matter to me how many gigs I play or tracks I produce. I also do not necessarily adapt to trends in the scene and do what I like and I am consistent in what I do. Let's not fool ourselves; techno is constantly reinventing itself, at least superficially. 
But seriously, elementarily nothing changes and fundamentally you always move within the same framework. However, you should accept the idea that without the web and your presence there, you do not really have a chance to gain a foothold in the business. Either you follow the rules of the game with structure and some capital or you do not play along, of course. You do not become successful with 1 or 2 good techno hits like Dave Clarke, Joey Beltram or Jeff Mills. No! I would like to go more into detail here, but that would go beyond the scope. I just know this: I have found a way for myself to stay REAL and I think it still works. I do not play a big role in the commercial part of the scene, but I am still part of the subculture, where most of what comes out is musical innovation. 
🇩🇪 . ....  Deutsch 
1. Warum ist dir Musik so wichtig? 
Für mich ist Musik ein Stück Freiheit, etwas, das mich ständig begleitet und allgegenwärtig ist Mein Alltag ist bestimmt durch Arbeit und Familie, real life eben. Nicht, dass ich unzufrieden oder nicht glücklich bin mit meinem Leben. Nein, Musik ist für mich eine Art Ausgleich, man kann einfach abschalten, kreativ sein und entspannen. Machen wir uns nichts vor, das Leben besteht nicht nur aus Party, sondern einer erbarmungslosen Leistungsgesellschaft, die einem manchmal alles abverlangt. Warum also dieser nicht in einigen Momenten entfliehen. 
2. Was war dein bewegendster Moment, den du als DJ erlebt hast? 
Bewegend ist vielleicht nicht das richtige Wort, eher Momente, die man intensiver erlebt hat, trifft es wohl eher. Es gibt sicher viele Momente, wenn ich zurückblicke, z. B. die Aufnahme 2007 in das Headquarter Team vom Tresor oder die unzähligen Gigs mit meinen Idolen der elektronischen Musik in unzähligen Clubs in Deutschland und Europa. 
3. Dein Lieblingstrack aller Zeiten und warum? 
Leider nur ein Stück??? Dann würde ich spontan Enjoy the Silence von Depeche Mode sagen. 
4. Was ist deine perfekte Vorstellung von Glück? 
Glück ist für mich definitiv jeder Tag, den ich mit meiner Familie verbringen darf, gesund bleibe und meine Kinder aufwachsen sehe. Ich definiere Glück nicht mit materiellen Dingen, Anerkennung oder Erfolg. Das alles ist vergänglich und macht nicht wirklich glücklich. 
5. Was hältst du von der heutigen Techno-Szene? 
Ich könnte jetzt einen Spruch bringen wie: Früher war alles besser. Aber so ist es eben nicht und sonst wäre ich wohl auch schon in der Versenkung verschwunden. Techno ist für mich eben auch viel mehr als nur Musik. Es ist für mich eine Art Lebenseinstellung und keine Modeerscheinung oder ein Job, wie es vielleicht viele andere sehen. Der negative Aspekt ist, dass Techno sich als großer Markt entwickelt hat, aus dem man Kapital schlagen kann. Egal ob große Agenturen oder kleine Künstler, alle wollen was vom Kuchen abhaben. 
Wie bei jedem Markt muss man sich an Spielregeln halten, um mitspielen zu können. Ich bin finanziell unabhängig und habe kein starkes Geltungsbedürfnis, daher spielt es für mich keine Rolle, wie viele Gigs ich spiele oder Tracks produziere. Ich passe mich auch nicht unbedingt den Trends in der Szene an und mache das, was mir gefällt und bin beständig in dem, was ich tue. 
Machen wir uns nichts vor, Techno erfindet sich ständig neu, zumindest oberflächlich. Aber mal im Ernst, elementar ändert sich nichts und grundlegend bewegt man sich immer im selben Rahmen. Man sollte sich jedoch mit dem Gedanken abfinden, dass man ohne Web und seine Präsenz dort, nicht wirklich eine Chance hat, im Business Fuß zu fassen. Entweder folgt man den Spielregeln mit Struktur und etwas Kapital oder man spielt eben nicht mit, ganz klar. Erfolgreich wird man nicht wie früher mit 1 bis 2 guten Techno Hits wie z. B. Dave Clarke, Joey Beltram oder Jeff Mills. Nein! Ich würde hier gerne ins Detail gehen, aber das würde den Rahmen sprengen. 
Ich weiß nur so viel: Ich habe für mich einen Weg gefunden REAL zu bleiben und ich glaube auch, dass es immer noch funktioniert. Ich spiele im kommerziellen Teil der Szene keine große Rolle, aber dennoch bin ich ein Teil der Subkultur aus dem ja schließlich größtenteils hervorgeht, was musikalische Innovationen hervorbringt. 
 🇪🇸 Español 
1. ¿Por qué la música es tan importante para ti? 
Para mí, la música es una pieza de libertad, algo que me acompaña constantemente y es omnipresente. Mi vida cotidiana está determinada por el trabajo y la familia, solo la vida real. No es que esté insatisfecho o no contento con mi vida. No, la música es una especie de equilibrio para mí; puedes desconectarte, ser creativo y relajarte. No nos engañemos; la vida no solo consiste en ir de fiesta, sino también en una sociedad de desempeño despiadada que a veces exige todo de ti. Entonces, ¿por qué no escapar en unos momentos? 
2. ¿Cuál ha sido tu momento más conmovedor que has experimentado como DJ? 
Mover quizás no sea la palabra correcta, más bien momentos que has experimentado más intensamente, creo que esta es una mejor descripción. Ciertamente hay muchos momentos cuando miro hacia atrás, p. la admisión en el equipo de la sede del Tresor en 2007 o los innumerables conciertos con mis ídolos de música electrónica en innumerables clubes en Alemania y Europa. 
3. ¿Tu canción favorita de todos los tiempos y por qué? 
¿Solo una pista? Bueno, entonces diría espontáneamente "Enjoy the Silence" de Depeche Mode. 
4. ¿Cuál es tu idea perfecta de la felicidad? 
Para mí, la felicidad definitivamente es pasar todos los días con mi familia, mantenerme saludable y ver crecer a mis hijos. No defino la felicidad con cosas materiales, reconocimiento o éxito. Todo esto es transitorio y realmente no te hace feliz 
5. ¿Qué opinas sobre la escena Techno hoy en día? 
Podría decir ahora: "Todo solía ser mejor". Pero no es así y de lo contrario ya habría desaparecido. El techno para mí es mucho más que solo música. Para mí es una especie de actitud ante la vida y no una moda temporal o un trabajo como muchos otros podrían verlo. El aspecto negativo es que el techno se ha convertido en un gran mercado desde el cual puedes capitalizar. 
Ya sea que piense en grandes agencias o pequeños artistas, todos quieren algo del pastel. Como con cualquier mercado, debes seguir las reglas del juego para poder jugar. Soy financieramente independiente y no tengo una gran necesidad de reconocimiento, por lo que no me importa cuántos conciertos toco o pistas que produzco. Tampoco me adapto necesariamente a las tendencias de la escena y hago lo que me gusta y soy coherente en lo que hago. 
No nos engañemos a nosotros mismos; El techno se reinventa constantemente, al menos superficialmente. Pero en serio, primariamente nada cambia y fundamentalmente siempre te mueves dentro del mismo marco. Sin embargo, debe aceptar la idea de que sin la web y su presencia allí, realmente no tiene la oportunidad de establecerse en el negocio. 
O sigues las reglas del juego con estructura y algo de capital o no juegas, por supuesto. No tienes éxito con 1 o 2 buenos éxitos techno como Dave Clarke, Joey Beltram o Jeff Mills. ¡No! Me gustaría entrar más en detalles aquí, pero eso iría más allá del alcance. Solo sé esto: he encontrado una manera de mantenerme REAL y creo que todavía funciona. No desempeño un papel importante en la parte comercial de la escena, pero sigo siendo parte de la subcultura, donde la mayor parte de lo que sale es la innovación musical.