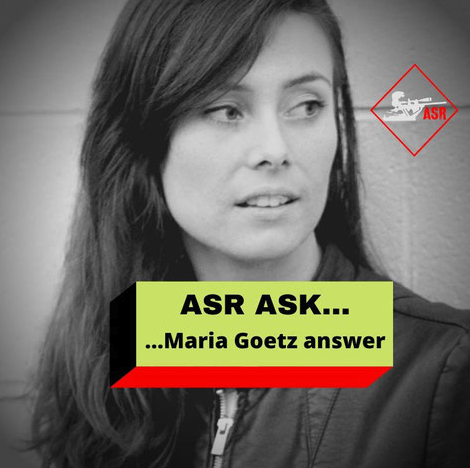 🇬🇧 ENGLISH 
1. Why is music so important to you? 
Music has the capacity to shape any mood. It can lift you up, energize you, chill you out, comforts you if you are feeling down. It is a great tool to frame your mind- the soundtrack to your life. It's also a great way to connect with people. I actually started DJing because I am quite a shy and anxious person and it was a way for me to put myself out there and connect with people through something that we both love. 
2. What has been your most touching moment you have experienced as a DJ? 
Playing at Tresor back in 2014. On Wednesday, Tresor has an event called New Faces where new artists are invited to play and the concept is fantastic- you don't need to be a well-known producer or DJ or whatever to be able to play good music. I was very new when Sebastian Krenzlin graciously invited me to play at Tresor and the crowd was amazing. Everyone was very supportive and having a good time and there for the music not the hype. 
3. Your favorite track of all time and why? 
So- probably not the answer that you are looking for, but my favorite track of all time is "I Slept With Bonhomme at the CBC" by Broken Social Scene. It is not techno or dance or anything. Broken Social Scene is this amazing band from Canada that uses horns and pianos and violins in their music so it is almost like a symphony. This track is just so warm and beautiful and it just grounds me. 
4. What is your perfect idea of happiness? 
Happiness is being surrounded by my family and animals and music. Angel and I have four bunnies and two cats- all of them rescued or inherited in some way, and I am happy that I get to care for them. Also, producing and DJing with my husband and best friend Angel has made me very happy. We have so much fun in the studio- it's like a date night, and probably the reason we never go out, haha. But it would be really great if we could travel more and DJ as a couple. 
5. What do you think about the techno scene nowadays? 
I am a little removed from the scene to be honest. I work nights and often weekends so when I do have free time Angel and I usually try to get in the studio. But there is a lot of really cool stuff happening in Chicago now. There are so many great techno parties- both in the clubs and underground. When we do go out it is inspirational and we bring the energy into the studio. 
🇩🇪 DEUTSCH 
1- Warum ist dir Musik so wichtig? 
Musik hat die Fähigkeit, jede Stimmung zu formen. Sie kann dich aufrichten, sie kann anregen, sie kann entspannen, oder trösten, wenn du dich niedergeschlagen fühlst. Sie ist ein großartiges Tool, deinen Geist und den Soundtrack zu deinem Leben zu formen. Es ist auch eine großartige Möglichkeit, mit Menschen in Verbindung zu treten. Ich habe mit dem DJing angefangen, weil ich ein ziemlich schüchterner und ängstlicher Mensch bin und es war für mich eine Möglichkeit, mich selbst zu verwirklichen und mit Menschen durch etwas in Verbindung zu treten, dass wir beide lieben. 
2- Was war dein bewegendster Moment, den du als DJ erlebt hast? 
Als ich 2014 im Tresor gespielt habe. Am Mittwoch findet im Tresor eine Veranstaltung namens New Faces statt, zu der neue Künstler eingeladen werden. Das Konzept ist super - man muss kein bekannter Produzent oder DJ oder was auch immer sein, um gute Musik zu spielen. Ich war ganz neu, als Sebastian Krenzlin mich freundlicherweise einlud, im Tresor zu spielen. Das Publikum war fantastisch. Alle haben mich sehr unterstützt und hatten eine gute Zeit; alle waren wegen der Musik da und nicht wegen des Hypes. 
3. Dein Lieblingstrack aller Zeiten und warum? 
Das ist wahrscheinlich nicht die Antwort, die du haben willst, aber mein Lieblingsstück aller Zeiten ist "I Slept With Bonhomme at the CBC" von Broken Social Scene. Es ist kein Techno oder Dance Track oder so etwas. Broken Social Scene ist diese erstaunliche Band aus Kanada, die Hörner und Klaviere und Geigen in ihrer Musik verwendet, so dass es fast wie eine Symphonie klingt. Dieses Stück ist einfach so warm und schön; es erdet mich einfach. 
4. Was ist deine perfekte Vorstellung von Glück? 
Glück ist es, von meiner Familie umgeben zu sein, meinen Tieren und der Musik. Angel (Anm. der Redaktion: Angel Alanis) und ich haben vier Hasen und zwei Katzen - alle gerettet oder irgendwie vererbt. Ich bin glücklich, dass ich mich um sie kümmern kann. Auch das Produzieren und DJing mit meinem Mann und besten Freund Angel hat mich sehr glücklich gemacht. Wir haben so viel Spaß im Studio - es ist wie ein Abend mit einem Date. Wahrscheinlich ist das der Grund, warum wir nie ausgehen, haha. Aber es wäre wirklich toll, wenn wir mehr reisen und als Paar auflegen könnten. 
5. Was hältst du von der heutigen Techno-Szene? 
Ehrlich gesagt, bin ich etwas raus aus der Szene. Ich arbeite nachts und oft am Wochenende. Angel und ich versuchen so oft es geht in meiner Freizeit ins Studio zu gehen. Aber in Chicago passieren jetzt eine Menge wirklich coole Sachen. Es gibt so viele tolle Techno-Partys - sowohl in den Clubs als auch im Underground. Wenn wir ausgehen, ist es inspirierend für uns und diese Energie bringen wir dann mit ins Studio. 
🇪🇸 ESPAÑOL 
1. ¿Por qué la música es tan importante para ti? 
La música tiene la capacidad de dar forma a cualquier estado de ánimo. Puede elevarte, energizarte, relajarte, consolarte si te sientes deprimido. Es una gran herramienta para enmarcar su mente: la banda sonora de su vida. También es una excelente manera de conectarse con las personas. De hecho, comencé a pinchar porque soy una persona bastante tímida y ansiosa, y fue una forma de ponerme en contacto y conectarme con la gente a través de algo que ambos amamos. 
2. ¿Cuál ha sido tu momento más conmovedor que has experimentado como DJ? 
Tocando en Tresor en 2014. El miércoles, Tresor tiene un evento llamado New Faces donde se invita a nuevos artistas a tocar y el concepto es fantástico: no es necesario ser un productor o DJ conocido o lo que sea para poder Toca buena música. Era muy nuevo cuando Sebastian Krenzlin me invitó gentilmente a tocar en Tresor y la multitud fue increíble. Todos fueron muy solidarios y pasaron un buen rato allí para la música, no para el bombo. 
3. ¿Tu canción favorita de todos los tiempos y por qué? 
Entonces, probablemente no sea la respuesta que estás buscando, pero mi canción favorita de todos los tiempos es "Dormí con Bonhomme en el CBC" de Broken Social Scene. No es techno ni baile ni nada. Broken Social Scene es esta increíble banda de Canadá que usa cuernos, pianos y violines en su música, por lo que es casi como una sinfonía. Esta pista es tan cálida y hermosa y simplemente me pone a tierra. 
4. ¿Cuál es tu idea perfecta de la felicidad? 
La felicidad está rodeada de mi familia, animales y música. Angel y yo tenemos cuatro conejitos y dos gatos, todos rescatados o heredados de alguna manera, y estoy feliz de poder cuidarlos. Además, producir y pinchar con mi esposo y mi mejor amigo Angel me ha hecho muy feliz. Nos divertimos mucho en el estudio, es como una noche de cita, y probablemente la razón por la que nunca salimos, jaja. Pero sería realmente genial si pudiéramos viajar más y pinchar como pareja. 
5. ¿Qué opinas de la escena techno de hoy en día? 
Estoy un poco alejado de la escena para ser honesto. Trabajo de noche y a menudo los fines de semana, así que cuando tengo tiempo libre, Angel y por lo general trato de entrar al estudio. Pero ahora hay muchas cosas realmente geniales en Chicago. Hay muchas grandes fiestas tecno, tanto en los clubes como en el underground. Cuando salimos es inspirador y llevamos la energía al estudio.