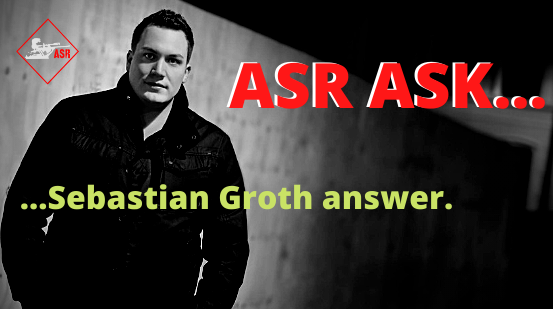 English / Deutsch / Spanish
🇬🇧 English 
1- Why is music so important to you? 
Because it was the first and actually the only thing that interested me as a child. 
2- What was your most moving moment that you experienced as a DJ? 
When someone tells me that my music or DJ sets made him want to make music too. 
3. Your favorite track of all time and why? 
Oh, there are some: "Electric Deluxe - Electric Deluxe" by Speedy J is z. B. such one. I think when I heard this track for the first time (1999 with Sven Väth at the Loveparade) I felt and understood techno for the first time. 
4. What is your perfect idea of happiness? 
In fine weather without having to think about the world, to be able to spend time with my girlfriend, my friends and my family. Best with a BBQ. 
5. What do you think of today's techno scene? 
Unfortunately, it has become a very ugly business in recent years. Hardly anyone cares more about the real music and only the DJs with the best marketing agency get attention. A very unfair game compared to the real techno lovers ... unfortunately.
🇩🇪 Deutsch 
1- Warum ist dir Musik so wichtig? 
Weil es die erste und eigentlich auch einzige Sache war, die mich schon als Kind interessiert hat. 
2- Was war dein bewegendster Moment, den du als DJ erlebt hast? 
Wenn mir jemand sagt, dass meine Musik oder DJ Sets ihn dazu gebracht haben, auch Musik machen zu wollen. 
3. Dein Lieblingstrack aller Zeiten und warum? 
Oh, da gibt es einige: "Electric Deluxe - Electric Deluxe" von Speedy J ist z. B. so einer. Ich glaube, als ich diesen Track das erste Mal gehört habe (1999 bei Sven Väth auf der Loveparade) habe ich das erste Mal Techno gefühlt und verstanden. 
4. Was ist deine perfekte Vorstellung von Glück? 
Bei schönem Wetter ohne über die Welt nachzudenken zu müssen, Zeit mit meiner Freundin, meinen Freunden und meiner Familie verbringen zu können. Am besten bei einem BBQ. 
5. Was hältst du von der heutigen Techno-Szene? 
Es ist leider ein sehr unschönes Business in den letzten Jahren geworden. Kaum jemanden interessiert mehr die wahre Musik und nur die DJs mit der besten Marketing Agentur bekommen Aufmerksamkeit. Ein sehr unfaires spiel gegenüber der wahren Techno Lovers… leider.
🇪🇸 Español 
1- ¿Por qué la música es tan importante para ti? 
Porque fue lo primero y, de hecho, lo único que me interesó de niño. 
2- ¿Cuál fue tu momento más emotivo que experimentaste como DJ? 
Cuando alguien me dice que mi música o mis sets de DJ lo hicieron querer hacer música también. 
3. ¿Tu canción favorita de todos los tiempos y por qué? 
Ah, hay algunos: "Electric Deluxe - Electric Deluxe" de Speedy J es z. B. tal. Creo que cuando escuché esta canción por primera vez (en 1999 con Sven Väth en el Loveparade) sentí y entendí el techno por primera vez. 
4. ¿Cuál es tu idea perfecta de la felicidad? 
Cuando hace buen tiempo sin tener que pensar en el mundo, poder pasar tiempo con mi novia, mis amigos y mi familia. Lo mejor con una barbacoa. 
5. ¿Qué opinas de la escena techno de hoy? 
Desafortunadamente, se ha convertido en un negocio muy feo en los últimos años. A casi nadie le importa más la música real y solo los DJ con la mejor agencia de marketing reciben atención. Un juego muy injusto en comparación con los verdaderos amantes del techno ... desafortunadamente. 
Tags: techno, underground techno, techno blog, techno label, techno dj, techno scene, techno germany, techno interview, techno music blog